Upcoming Events at Stringtown Farms
HOLIDAY HOURS: Through December 23, the farm is open daily from 10 am to 5 pm. Choose your own Christmas tree, and shop for gifts of wine, cheese, and lavender products!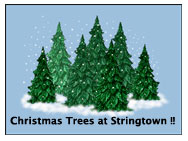 NEW WINE: Just in time for the holidays...come out and try the new Gewurztraminer wine, a smooth, semi-dry white wine with lovely spice notes. A perfect pairing with holiday fare!
RECIPE: Leftover turkey? See the recipe for turkey chili with wine. Yum!!
Around and About
Strawberry Rosé Lemonade
1 organic lemon
1/3 c. sliced organic strawberries (or crushed raspberries), and few more berries for garnish
1 c. Rosé wine
2 T. honey or agave (or more to taste)
1 c. water
Cut the lemon in half and reserve one half. Juice the other half and remove the seeds. Mix the water and lemon juice in a blender and add the berries and honey. Blend for 10 seconds. Stir in the wine. Pour the mixture through a fine strainer over crushed ice in a glass. Garnish with a thin slice of lemon and a few slices of berry, if desired. Serves two.
---
John Adams
Mailing Address: 9121 Stringtown Road Eatonville, Washington 98328
360-832-4743
stringtownfarms@stringtownfarms.com
---